Newmillerdam Country Park is a woodland and lake in a picturesque village setting, perfect for walking, cycling and horse riding near Wakefield. This beautiful Country Park is a stunning mix of woodland and water, with various birdlife and wildlife. Within the ground of Newmillerdam Country Park, you'll find a Boathouse, which was used by the Pilkington family as a lakeside retreat. The Boathouse is available for hire as an unusual meeting venue in a very relaxing and natural setting.
Pugney Country Park is a great day out and nice walk with two lakes and a modern water sport centre and café. The largest lake is a 100-acre with water sports offering fantastic sailing, wind surfing, canoeing and kayaking. The smaller lake is a nature reserve, which is home to a large flock of non-breeding swans.
Nostell Priory was the creation of Sir Rowland Winn in 1733 and built by James Paine. It sits in 300 acres of parkland divided between working farmland, lakes and walks and stunning gardens including an adventure pla area and an orchard. The Priory (not actually a priory) is now under the stewardship of the National Trust and contains many items of artistic and historical value including paintings and a longcase clock.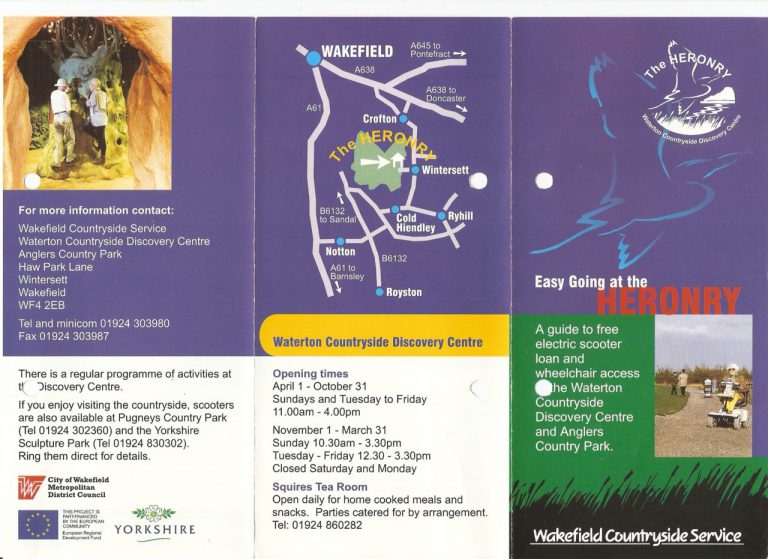 Anglers Country Park [ Waterton Discovery Centre ] is a Local Nature Reserve in beautiful countryside surroundings, The Park is designated a Site of Scientific Interest with a variety of meadowland, wetland and trees, all rich in wildlife. There is always something to see in the different seasons with the arrival of lots of bird life, damselflies, dragonflies and plant life and flowers. The lakeside walk is very pleasant and is next to Wintersett Reservoir.
Walton Colliery Nature Park
Following the Trans Pennine Trail north from Haw Park Wood you find the former colliery site of Walton Colliery Nature Park with its ponds, grassland and wildlife, which has a good path network. In 2008 it was designated a Local Nature Reserve.
A local nature reserve – managed to protect and improve its habitats for the benefit of wildlife, there is always something different to see as the wildlife changes with the seasons- spring sees the arrival of the Cuckoo and watch out for Grass Snake basking in the summer sunshine (the UK's largest non-venomous snake).