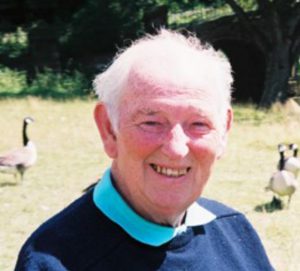 "I have been a quadriplegic for over 20 years and unable to use my hands and legs and I am in a motorised wheelchair.
I had a cycling accident in 1989 and have been in a wheelchair since. I have always lived in the Sheffield area and was quite active before my accident. I had a love of walking and over these years in my wheelchair, have tried to go on walks suitable for me and my sister."
Editor's note – Sadly Geoff passed away in 2017 but it was decided to keep the site published as a lasting tribute.
Jeff was one of the most tenacious and determined people I have ever known. He was involved with several organisations within his area including the local cricket club, football club, Scouts and his church, St.Joseph's at Handsworth.
He bought a computer and adapted the layout to suit the fact that he could only operate it with the knuckle of one finger of his right hand. In doing so he produced newsletters and documents and all of the text for each walk on this site. He also organised and saved all of the photographs for each walk and burned them out to disc for this site.
He was proof that if you put your mind to it, you can achieve whatever you want !
After working in the NHS for 32 years at both Sheffield's Royal Hospital and Trent Regional Health Authority I found myself as Jeff's full-time carer after his accident in 1989.
We have always shared many interests and getting "out-and-about" was high on the list and so combining our love of the outdoors with passing on our experience to others led to Jeff's "Wheelchair Walks" project, something we both took a great interest in.
Jeff is greatly missed by me and his many friends.
It is with much sadness that Jeff left us to go and explore new walks in Heaven in mid-January 2017.
I had known Jeff for a long time, having lived in the same village and attended the same church as him, but had only become good friends with both him and Audrey over the creation of his web site.
Since 1989 he had lived his life from his wheelchair after being injured while cycling, an accident that meant he became a quadriplegic, with only slight movement in one hand.
Many people in such circumstances might find it so overwhelming to lose their independence that they give up. Not Jeff. His involvement with the local football and cricket teams and the Scouting movement was not to end with a change in his abilities.
Determination, ingenuity and the right accessories meant that Jeff would happily take himself to the football/cricket ground some 2 miles away or up to church every weekend and to each week's Scout meeting.
Nothing was going to shackle Jeff to the house.
His love of walking was also translated into finding walks that were wheelchair friendly and with sister Audrey as his chauffeuse, and many a good friend, they would set off to sample the fresh air and take in the views.
As a natural development, Jeff wanted to share his experiences and offer some help to fellow wheelchair users by passing on his knowledge of walks that could enhance the lives of other disabled people. The idea was born to build a web site as this was thought to be the easiest way to reach people and also offer an expanding amount of knowledge.
As we built the site, there were many times when I cursed him for the sheer volume of data that he sent me, but slowly jeffswheelchairwalks.net came to fruition (now jeffswheelchairwalks.org.uk) . From adding just the walk details (all of these written purely by Jeff using the knuckle of one finger to type with) we added photo galleries and Jeff's latest desire was to add videos of each walk, something that is still a work-in-progress.
You will be sorely missed Jeff, even though we can still see you organising St Peter into a ten mile hike around the clouds, and know that this web site is just part of your legacy.