The Peak District and Chesterfield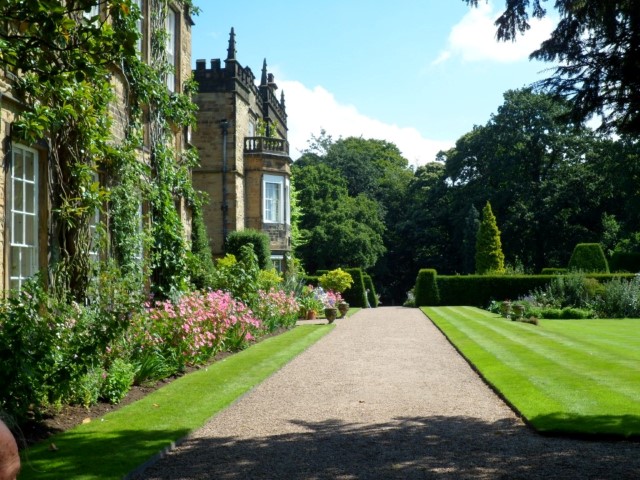 Renishaw Hall and Gardens
Renishaw Hall has been in the Sitwells family for nearly 400 years and the fabulous Italianate style gardens dates back to 1895, which have been restored and enhanced, to the geometric design. On either side of the formal gardens are more naturalistic plantings and to the east of the garden, holly and camellia avenues lead to paths through mature woodland, down to the lakes originally excavated to enhance the view from the house.
Chesterfield is a bustling market town which has the nearby Queen's Park and gardens very close by. It has as it's focal point the famous 'Crooked Spire' Church which can be seen from miles around, Tudor buildings, busy market most days, a few narrow streets and a scenic Queen's Park to visit. Enjoy your walk around the town.
Chesterfield Canal Tapton
The Chesterfield Canal once a working canal is widely recognised as one of the most beautiful and varied waterways in England runs for 46 miles from the River Trent to the middle of Chesterfield, linking Nottinghamshire, South Yorkshire and Derbyshire. The canal can be walked on the towpath known as The Cuckoo way and goes through tranquil countryside and scenic views.
The walk is around a pretty lake which has a variety of fowl & bird life and wild flowers and the park has a number of recreational facilities, children's adventure play areas and is part of the Chesterfield Sculpture Trail which links in with Newbold, Ashgate, Linacre Reservoirs and Cutthorpe.
There are 3 reservoirs at Linacre, built between 1855 and 1904 and, between them they hold more than 240 million gallons of water. It has a very scenic woodland with a variety of trees and plant life – the walk I have shown is around the middle reservoir which can be done by a motorised wheelchair. In spring, the woods around the Reservoirs are carpeted with bluebells, you can find a variety of oak trees, along with beech, alder, larch and pine.
Carsington Water is a large reservoir with all types of leisure activities and water sports. It has an excellent Visitors Centre with a Water exhibition and Restaurant and an outside café, craft & gift shops and many other facilities. It is very scenic with lots of water activities to view and it is a great place for outdoor activities for the whole family, and it caters for disabled people. There are lots of play areas for children. The lake walk for walkers is an 8-mile round route.
The Matlock Park walk is from Matlock to Matlock Bath along the river Derwent and 2.4 miles long and is a scenic riverside and cliff walk. The 5 parks are called Hall Leys Park, Pic Tor, High Tor, Lovers Walk and Derwent Gardens and is a pleasant riverside walk with gardens, monuments, grand pavilion and many other features. The paths are well paved and friendly to pushchairs and wheelchairs
The walk starts at the picturesque village of Edensor, where you can visit St. Peters Church, [ in the churchyard is the grave of Katherine Kennedy whose brother President John F Kennedy visited in 1963 ]. The walk is quite hilly but on reaching the top of the hill you get wonderful scenic views of Chatsworth House, Edensor and the surrounding Chatsworth Park area with the river, trees and farm animals on the hillside. You then walk down the hill to the Chatsworth House & Gardens, which has numerous facilities
The walk starts at the country village of Baslow in Derbyshire and is very scenic as the famous Chatsworth House comes into view with the surrounding Chatsworth Park area with the trees and farm animals on the hillside. You can then walk into the Chatsworth House & Gardens, which has numerous facilities.
This is a short walk of 200 metres only and gives you a spectacular view from Baslow Edge of the Peak District in all its glory. This is an extension of a marvellous Edge walk of Froggatt Edge then Curbar Edge and then Baslow Edge, and just gives you a feel of being on the edge. Unfortunately the edge walk is not for wheelchairs. P.S. Definitely pick a clear sunny day, take your binoculars then lunch in a Pub or Café.
The walk is around the well-known picturesque market town of Bakewell in the heart of the Peak district and follows the very scenic River Wye and then back into the bustling Bakewell with it's many attractions, shops, café's, regular livestock market and the Bakewell All Saints Historic Church. It is also famous for its Bakewell pudding and tarts and has many visitors all year round.
Monsal Trail
Bakewell to Hassop
The Monsal Trail is a traffic free route for walkers, cyclists, horse riders and wheelchair users through some of the Peak District's most spectacular limestone dales, and is the former Midland Railway line running for 8.5 miles between Blackwell Mill, in Chee Dale and Coombs Road, at Bakewell.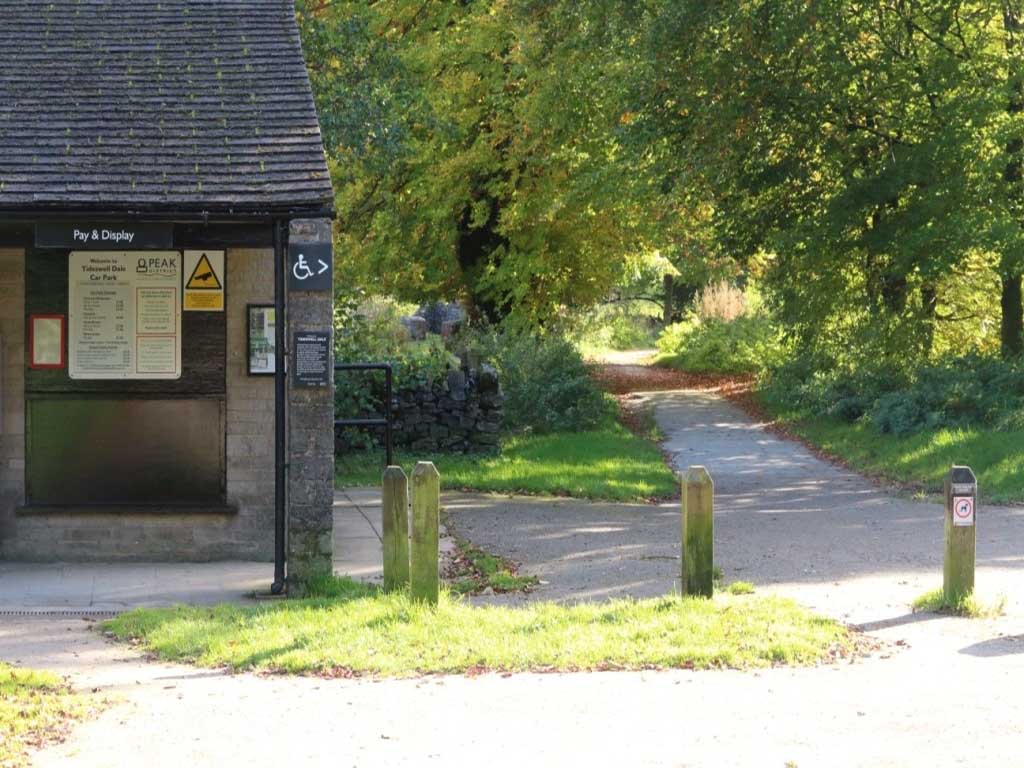 Tideswell Dale is a short circular walk near Millers Dale and is a very picturesque walk and you can also visit the Monsal Trail, Millers Dale and Tideswell village, which are close by.
The walk starts near Fox House and goes through the Longshaw Lodge Estate with spectacular scenic views of the Peak District and surrounding heather moorlands and hills of Higger Tor and the pre-historic hill fort of Carl Wark, and is a one-way and back walk.
The High Peak Trail is on a disused railway line which runs from High Peak junction near Cromford to Black Rocks – Middleton Top – Minninglow – Friden – Parsley Hay – to Hurdlow near Buxton and covers a distance of about 18 miles. Some of the views can be quite outstanding and there are many villages to visit close to the trail and the short Hopton and Newhaven Tunnels to go through. There are quite a few stretches where you are limited to a view as you are in railway cuttings.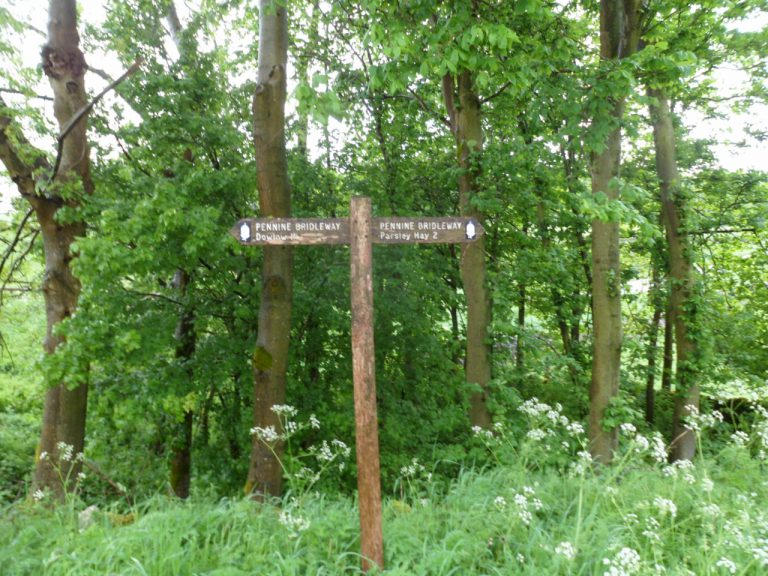 The Tissington Trail is on a disused railway line which runs from Ashbourne to Mapleton Lane – Thorpe – Tissington – Alsop – Hartington – Parsley Hay towards Buxton and covers a distance of about 14 miles. It is joined by the High Peak Trail a short distance South of Parsley Hay.
A scenic walk which starts in the pretty village of Low Bradfield and goes around the Damflask Reservoir, which has sailing boats on during the weekends.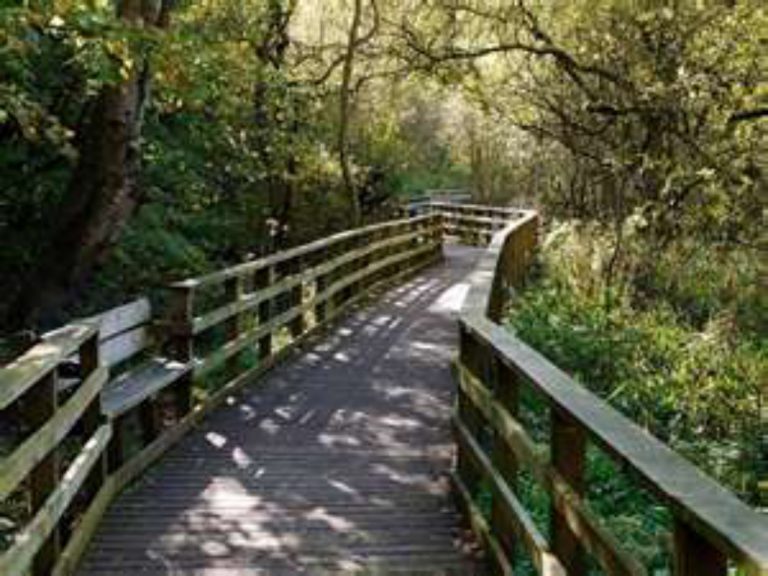 Hardwick Hall [ was first created by Bess of Hardwick in the late 1500s ] is situated on a hilltop between Chesterfield and Mansfield, overlooking the Derbyshire countryside. Hardwick is open to the public. It has a fine garden, including herbaceous borders, a vegetable and herb garden, and an orchard. The extensive grounds and parkland also contain Hardwick Old Hall, which is now a ruin.
Situated on the edge of Oldham and the Peak District National Park, Dovestone Reservoir is a spectacular area popular with visitors and for family days out.  A picturesque spot, especially when the sailing boats are in action, it has an extensive network of footpaths and good links to areas of open access moorland and the RSPB members visit regularly.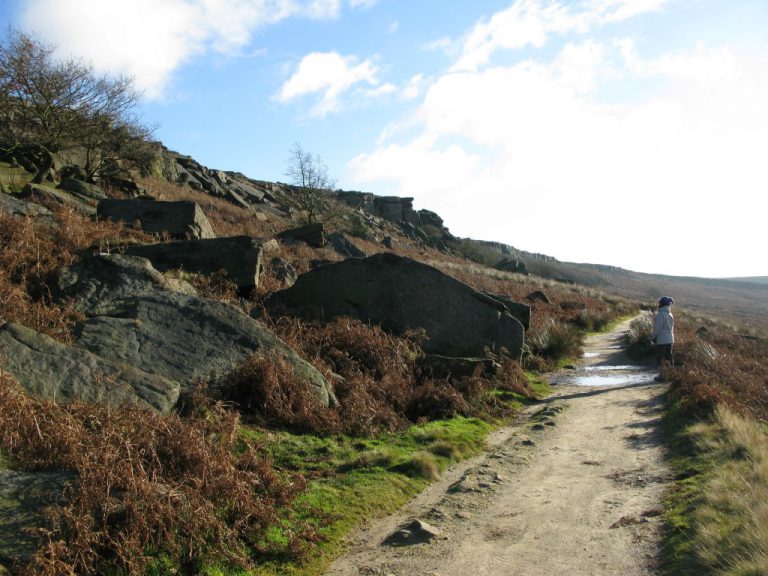 Burbage rocks is in the heart of the Peak District with great views around of the hills of Higger Tor and the Hill Fort of Carl Wark and close by is the famous Stanage Edge rocks which is great for climbers and walkers. There is a short walk a motorised wheelchair can do but will be too difficult for a normal wheelchair but there are spectacular views around and you can stay nearby on the car park / road side and take in the views.
This is a short walk from Grindleford Station to the Padley Chapel in the beautiful peak district, and every year in July there is an annual pilgrimage to Padley Manor House to celebrate the lives and deaths of Nicholas Garlick and Robert Ludlam – known as the Padley Martyrs – who died for their faith more than 400 years ago.
The walk around Ladybower Reservoir which is linked to Derwent Reservoir in the heart of the Peak District is surrounded by spectacular mountains, which was also where the famous 'Dambusters' film was made which trailed the Barns Wallis 'Bouncing Bomb', and occasionally they have a flyover of a Lancaster Bomber.